CuraMed Effervescent Tablets 350mg - Healthy Inflammation Response by Terry Naturally
By Terry Naturally
UPC: 367703070038
FREE Domestic Shipping
90 Day Satisfaction Guarantee
Entered to win $100 Coupon
Healthy Inflammation Response*†
SUPERIOR ABSORPTION CURCUMIN • DISSOLVES IN LIQUID
More Powerful Than Plain Curcumin or Turmeric
CURAMED® LIQUID
Tasty and Easy to Take!
Effervescent tablets, dissolvedin liquid, are perfect for those who have difficulty swallowing capsules or tablets.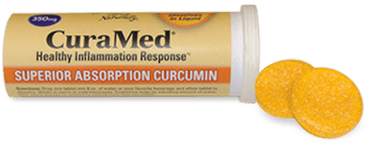 »  Cell-protecting, clinically studied Curcumin*
     »  Excellent for adults and children
     »  Provides 135 mg of curcuminoids, the key component found in turmeric
     »  Mild tangerine flavor
The CuraMed® Difference
When compared gram per gram, clinicaly studied Curcumin delivers up to 10 times more curcumin to the bloodstream than plain curcumin.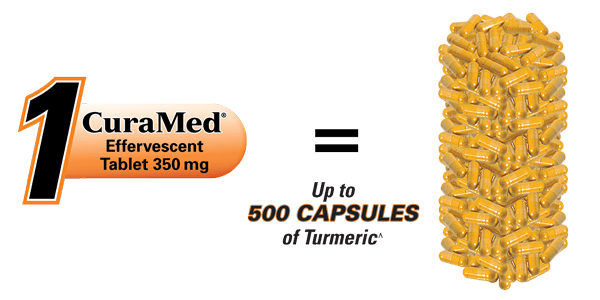 † Occasional inflammation due to exercise or overuse
**Based on independent lab analysis per 100 grams BCM-95®
TOP
90 Day Satisfaction Guarantee
We understand, the item you purchased isn't want you thought it would be. No need to worry, you can return any product opened or not for a 100% refund. Just send the item back with 90 days and we will credit your account.
close
Entered to win $100 Coupon
At the beginning of each month we randomly select a customer who made a purchase order from the previous month and give them a $100 gift card to our store. Every order will qualify you for an entry. The more time you purchase the better your odds get!
Click for more details.
close
Shipping Details
Advantage-nutrition.com offers a Same Day Shipping guarantee on all in stock items Monday thru Friday by 4pm EST & Saturday by 1pm EST. Items will not ship Sundays & national holidays. If your shipment was delayed please contact us for a credit of $5.
close